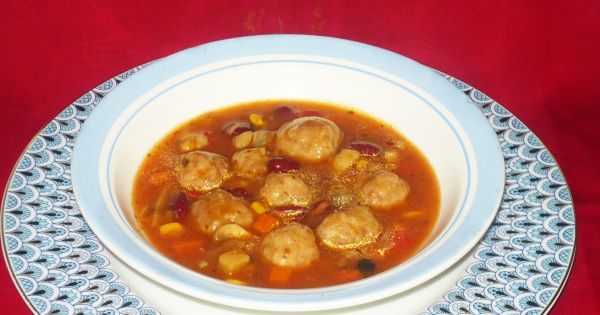 Zupa z mięsnymi pulpetami
250 g of minced meat (beef, veal, pork), 4 tablespoons of oil, 1—2 carrots, half a celery, medium onion, 2—3 eggs, 4 spoons of rice, spoon of flour, half a cup of curdled milk or cream, a bunch of parsley leaves, pepper, salt
Clean, wash and cut carrots into pieces, seler, onions; stew them in fat (oil, oil), to soften. Then pour boiling water over it (ok. 2 l), salt and pepper to taste; cook the broth, to which you can add bones from meat. Add half a bunch of parsley to the minced meat, salt and pepper to taste, protein, 2 spoons of rice; mix thoroughly. With your hands dampened in the vinegar water, form small balls the size of a walnut. When the broth is cooked, remove the bones and add the prepared meat balls, add the rest of the rice (or diced 3 to 4 potatoes); cook until the meat is tender. In a separate vessel, beat the flour, 1-2 eggs and curdled milk thoroughly (yogurt) or cream, thicken on fire, stirring constantly, spread with cool broth, pour into the soup, season with salt and pepper. Before serving, sprinkle with finely chopped parsley.
The soup can be tinted with carrots grated on a grater and fried in fat.
Chicken soup
Chicken (ok. 750 g), 1—2 carrots, 2—3 parsley, half a celery, medium onion, a glass of fresh milk, 2 spoons of dry white wine, a bunch of parsley leaves, a few grains of pepper, salt
Put the cleaned and washed chicken into the pot, pour cold water (2 l) and cook, adding peeled and rinsed vegetables: carrot, seler, parsley, onion, a pinch of salt and pepper. When the meat comes off the bone, take them out of the pot. Separate half for breading, and cut the other into small pieces. Strain the broth, put the sliced ​​meat in it, pour in milk and wine. Boil the soup. Serve with finely chopped parsley or ground pepper.