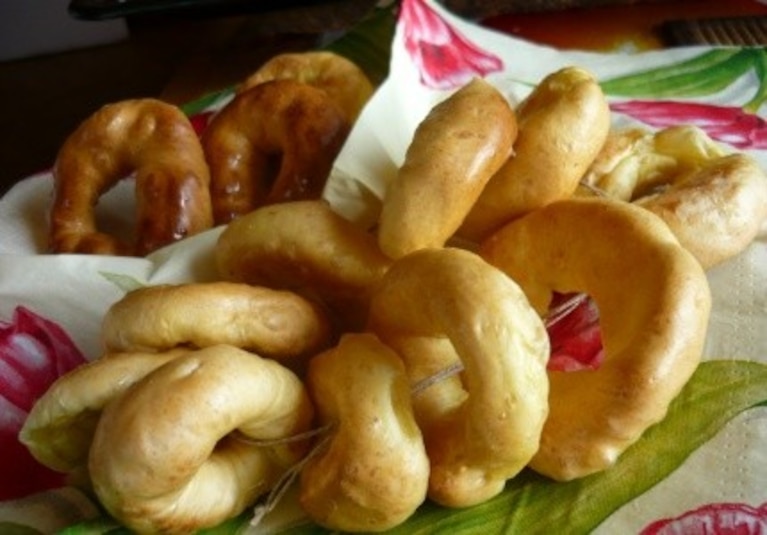 Bagels with meat and mushroom paste
1-2 strings of bagels, 15 dag of roasted meat (parings), 10 a dag of mushrooms, 3 spoons of butter or margarine, spoon of thick cream, salt, pepper, green salad, a pod of red pepper
Wash the mushrooms and clean the shafts. Stew with part of the fat (1 spoon), cool and pass it through the meat grinder together with the meat. Add butter to the mixture, cream, lightly sprinkle with salt and pepper. Thoroughly mix all ingredients until homogeneous. Wash the paprika, cut off the root, remove the nest and cut into four parts. Put the mass into a bag with a needle and squeeze it along the entire circumference of each bagel. Place the bagels on the lettuce leaves and cover them over a round tray or dish; garnish with paprika.
Crackers with herring and apple paste
1 a pack of crackers, 40 a dag of herring fillet trimmings, 45 a dag of apples, 10 a dag of butter or margarine, tomato
Wash the apples, peel the skin or, if healthy, leave it on, hollow out the seed nests. Pass the apples and the herring fillets through a food processor, add margarine and grate until smooth. Use a needle to squeeze small decorations onto the crackers and place them on the tray. Decorate the whole with tomato particles.