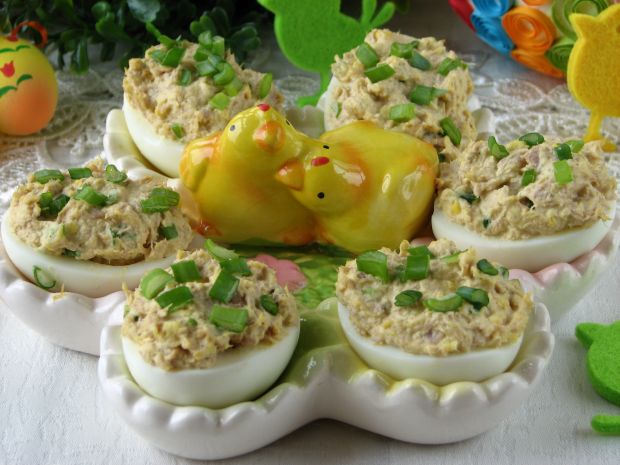 Eggs stuffed with tuna in green sauce
4 haha, can of tuna in olive oil, 4 spoons of mayonnaise, 2 spoons of finely chopped parsley, spoon of spinach puree (boiled, ground twice), salt
Hard-boil the eggs, cool, peel and cut lengthwise. Remove the yolks carefully, Lightly cut the bottoms of the egg whites, so that they sit better on the platter. Grind the yolks with a teaspoon of mayonnaise and shredded tuna until smooth, salt to taste. Fill the egg whites with the mixture, forming the shape of the entire egg. The rest of the mayonnaise, of spinach and parsley, make a green sauce and fill the dish with it, then arrange the prepared eggs. Garnish with small radishes or tomato wedges.
Duck or turkey fillets with "Weronika"
4 roast turkey or duck fillets, 4 slices of ham (not necessarily), 2 tablespoons of gelatin, half a cup of broth from giblets or cubes, half a glass of dry white wine.
Sos: 2 spoons of mayonnaise, 2 tablespoons of sweet cream, half a cup of grapes or white currants
Arrange the turkey or duck fillets on a small dish and put the slices of ham on them. Boil the broth with the wine, add gelatin soaked in cold water, boil and cool. Pour it over the poultry fillets. Put in the fridge, for the jelly to solidify. Make the sauce before serving, smoothing the mayonnaise with cream and adding the washed fruit (cut off the dark ends and stalks with scissors).
Ham mousse
25 a dag of ham, half a lemon, half a tablespoon of olive oil, a glass of whipped cream (unsweetened), 4 lettuce leaves, tomato, egg, pepper, salt, for decoration a few sprigs of green parsley
Wash the greens and dry with a cloth. Washed tomato and hard-boiled egg, cut into 4 parts. Blend the ham in a mixer or - if you don't have it - pass it through 2 times through the razor, season with the juice of half a lemon, pepper, salt and olive oil. Stir in the whipped cream. Put the mousse into compote-irons or wide cups and put them in for approx. 1 at. into the fridge. Before serving, garnish each dish with a lettuce leaf, a piece of egg and tomato and a sprig of parsley.