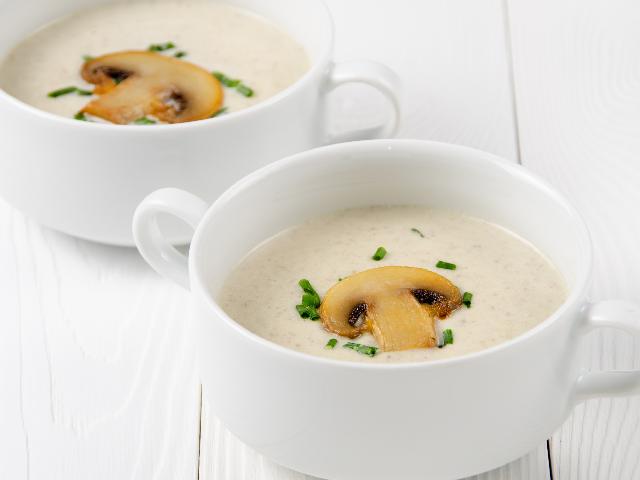 Cream of mushrooms
4 servings - 1st serving contains approx. 130 kcal
• ½ kilograma pieczarek
• mała włoszczyzna (without cabbage)
• 1 large potato
• 1 medium onion
• 2 spoons of olive oil
• 50 ml chudej śmietany lub 100 ml of natural yogurt
• kostka rosołowa lub szklanka domowego wywaru warzywnego lub mięsno-warzywnego
• salt, ground white pepper
Put the peeled and chopped greens together with the potato cut into quite large cubes. Pour water (ok. 2,5 liters) and cook 20 minutes (from the moment of boiling). In time, while the vegetables are boiling, chop the onion finely, Slice the mushrooms into thin slices and stew them together in the olive oil. At the end of stewing, salt and pepper to taste. Leave a few stewed mushrooms for decoration. Add the rest, along with the onion, to the soup, pour the stock or add the stock cube. Pour cream or yoghurt, possibly add salt to taste. Take it off the fire. When the soup has cooled down a little, blend the whole with vegetables into cream. Before serving, heat it up and decorate with the mushrooms and parsley left aside.
Pumpkin soup
4 portions - 1 portion contains 185 kcal
• 5 średnich ziemniaków
• 2 onions
• 2 garlic cloves
• 2 carrots
• 2 parsley
• 1 a small piece of celery
• 500 g dyni (preferably butternut squash)
• salt, pepper, nutmeg to taste
• 2 spoons of olive oil
Chop the onion and garlic and fry them until they are very warm 2 spoons of olive oil (preferably immediately in a pot, in which the soup will be boiled), add the remaining diced ingredients and simmer briefly together, covered, on low heat. Add as much water, to cover the vegetables, cook until soft, mix, make up with water to the desired consistency, season with salt and pepper, possibly nutmeg.
Red lentil and cabbage soup
4 portions – 1 a serving contains approx. 170 kcal
• ¾ szklanki czerwonej soczewicy
• ¼ małej główki białej kapusty
• 4 małe marchewki
• 2 żółte lub czerwone papryki
• 1 a little celery
• 1 average cf
• 2 medium potatoes
• natka pietruszki
• 2 kostki rosołowe lub mrożony wywar warzywny
• salt, marjoram, oregano
Taste, carrots, paprika, Leek and cabbage cut into strips and cook in 2 liters of water approx 5 minutes. Add the lentils and the diced potatoes. Fine red lentils are cooked until tender approx 20 minutes. After this time, add stock cubes or home-made vegetable stock (it can be meat and vegetable), salt and season to taste as desired (marjoram, oregano, chopped parsley). Set aside for 20-30 minutes.