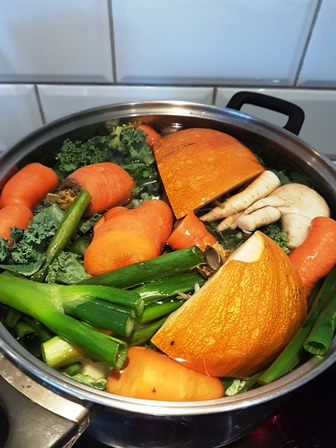 Decoction of vegetables
3 portions - 1 portion contains 15 kcal
• 1 medium-sized carrots
• ½ medium parsley (root)
• taste
• 1/4 of the average season
Carrots, for, parsley, Coarsely shred the celery, cook approx 30 minutes until soft in 1 liter of water (no salt).
Vegetable soup
4 portions - 1 a serving contains approx. 215 kcal
• 2 large carrots
• 1 medium parsley
• 1 a little celery
• 1 average cf (white part)
• 300 g cauliflower or broccoli
• 200 g of green beans
• 2 large potatoes
• 1 spoon of butter or 3 tablespoons of oil
• ½ cup of plain yoghurt
• salt, pepper, Bay leaf
• 3 spoons of shelled sunflower seeds
In a thick-bottomed pot, melt the butter (or heat the oil) and add bay leaf and diced vegetables (carrot, parsley, celery, for, green beans - you can use the frozen mixture). Pour in a couple of tablespoons of water, cover and simmer approx 10 minutes. Then add it 2 liters of water. Bring to a boil and add the diced potatoes and small florets of cauliflower or broccoli. Cook all together yet 25 minutes. Add salt and pepper to taste. Finally, add the yogurt, shuffle and set aside 20 minutes. (Do not bring the soup to a boil after adding yogurt or cream.) Just before serving, sprinkle with sunflower seeds.
Cauliflower cream
1 portion - 1 portion contains 180 kcal
• 1/4 of a head of cauliflower
• ½ carrots
• 1 a slice of bun
• dill, salt, pepper
Cut the cauliflower and carrots, pour water, add spices and cook until tender. Take it off the fire, cool and blend. Bake the bun in the oven, until it is crispy, dice and add the croutons to the heated cream.