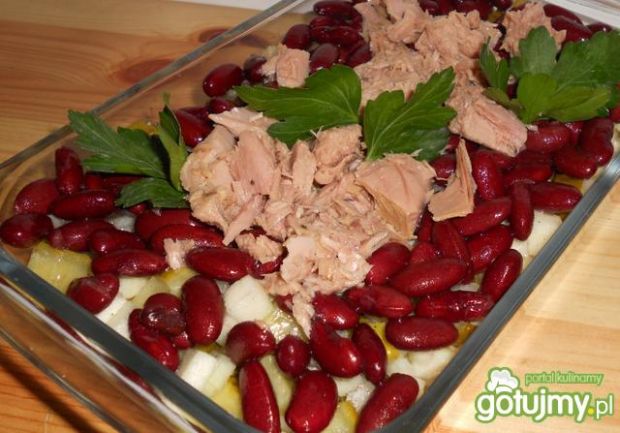 Bean and tuna salad
2. servings - 1st serving contains 315 kcal
• 100 g suchej fasoli perłowej (or 300 g from the can)
• 12 black olives
• 1 Red onion
• 1 can of tuna in oil (drained on a strainer)
• natka pietruszki
Put the cooked beans into a bowl. Add chopped onion and remaining ingredients and mix. Sprinkle with green parsley before serving. The salad contains large amounts of valuable protein and slow-release carbohydrates, it is therefore the perfect dish after an intense training session.
Colorful bean salad
6 portions - 1 a serving contains approx. 185 kcal
• 1 a can of red beans
• 1 can of white beans
• 1 Red pepper
• 1 yellow pepper
• 5 ząbków czosnku
• 1 Red onion
• świeża bazylia (can be dried)
• 4 spoons of olive oil
• sól, pepper
Drain the canned beans, put in the bowl. Cut the peppers into strips, half-sliced ​​onion, press the garlic through the press. Add salt, pepper, olive oil, basil. Mix everything thoroughly and set aside for an hour.
Avocado and papaya salad
2 portions - 1 a serving contains approx. 240 kcal
• 1 medium avocado
• 1 papaya
• 1 a small head of lettuce
• 1 a cup of natural yoghurt
• 1 clove of garlic
• salt, herbs for salads
Peel the avocados, cut lengthwise in half and remove the pit. Dice the pulp together with the peeled papaya. Wash the lettuce, dry and tear into small pieces. Combine the lettuce and fruit in a bowl. Prepare the yoghurt and garlic sauce, season with herbs, salt and pour over the lettuce.