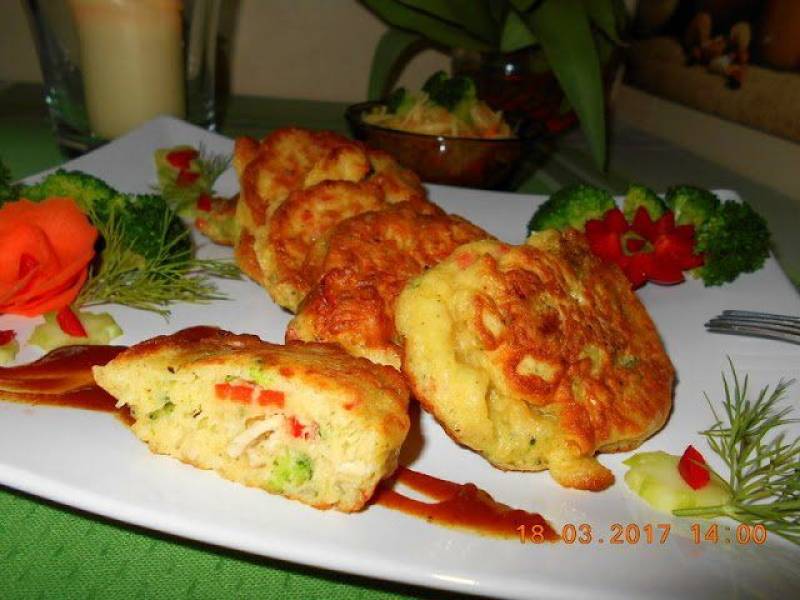 Fish with wild rice fritters
4 portions - 1 portion contains 480 kcal
200 g (2 handbags) wild rice & parboiled
600 g of salt fillets (cod, mintaja)
1 onion
1 spoon of butter
1/2 liter of fish stock
1/2 glasses of cream 18%
2 spoons of olive oil
2 tablespoons of potato flour
2 eggs
1 a bunch of dill
1 lemon
Boil the rice according to the recipe on the package. Drain and mix with protein, potato flour, salt and pepper. Heat the oil in a frying pan and fry small rice pancakes on it.
Rinse the fillets, dry and sprinkle with lemon juice. Then boil it in boiling water for approx 4 minutes (use the resulting decoction for the sauce).
Peel the onion and chop finely. Heat the butter in a pot and fry the onion on it. Add cream and stock and cook, until half the volume is left. 2 beat the yolks, mix with the sauce not cooking anymore. Rinse the dill, chop and add to the sauce, Season to taste with salt and pepper.
Arrange the rice cakes and fish on a plate, and then pour over the sauce. Garnish with a lemon slice and dill.