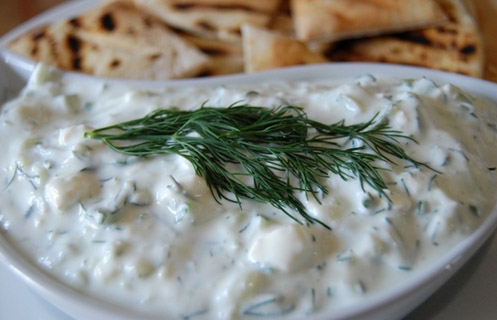 1 a little cucumber
200 g of yogurt (3,5% fat)
100 g buttermilk
1 clove of garlic
4 borage leaves
a bunch of dill
2 slices of wholemeal sunflower bread
1 LS butter
a pinch of iodized salt
a pinch of cayenne pepper
for two
preparation time: ok. 30 minutes
1 portion – ok. 240 calories
In summer you can garnish with cucumber yoghurt with borage flowers.
1. Peel the cucumber. Cut a piece of approx. 5 cm and set aside. Dice the rest of the cucumber into large cubes.
2. Put it in a dish with yoghurt or buttermilk and mix. Season with iodized salt and cayenne pepper.
3. Peel a clove of garlic and press it into the dish through the press. Dice the rest of the cucumber into thick cubes 1/2 cm. Wash the dill and dry it with a cloth. Chop very finely. Add to yoghurt and mix.
4. Brush the slices of bread with butter. Pour the yogurt into two deep plates and garnish with pieces of cucumber.