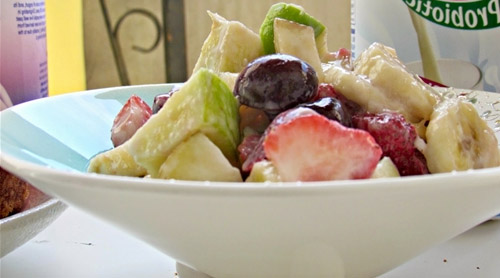 250 g of fresh strawberries
after 125 g of fresh raspberries and currants
300 g kefiru (3,5% fat)
3 LS fructose (concentrated fruit nectar from a health food store)
3 Sunflower seed LS
2 LS of chopped almonds
1 LS of chopped lemon balm
for two
preparation time: ok. 20 minutes
1 portion – ok. 460 kcal
You can use the same amount of full-fat yogurt instead of kefir, curdled milk or buttermilk (max. 1% fat). Depending on the season, other types of berries can also be used, e.g.. gooseberry, blackberries or blueberries.
1. Pick the fruit, clean, wash, drain well and put into two salad bowls. Cut the strawberries in half.
2. Sweeten the kefir with fructose. Pour over the berries.
3. Sprinkle with sunflower seeds, chopped almonds and lemon balm.