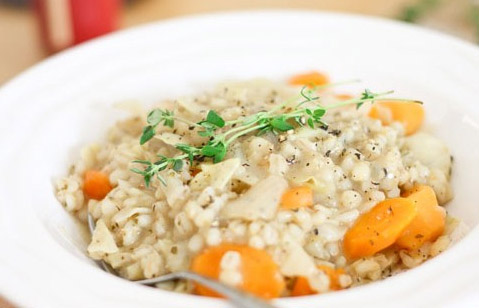 3 ŁS groats
a large bunch of Italian
1 LS butter
400 ml of vegetable broth
1/2 ŁH herbal salt
1 LS of chopped parsley
a pinch of iodized salt
a pinch of cayenne pepper
a pinch of grated nutmeg
for two
preparation time: ok. 30 minutes
1 portion – ok. 160 kcal
1. Pour the washed grits into the boiling pan, lightly salted water and cook through 30 minutes on low heat.
2. During this time, clean the vegetables, wash and cut into small cubes.
3. Melt the butter in a pot and simmer the chopped greens in it over low heat. Add the vegetable stock and bring it to a boil 15 minutes.
4. After cooking, add the drained groats to the soup. Season with herbal salt, cayenne pepper, with nutmeg and sprinkle with parsley.