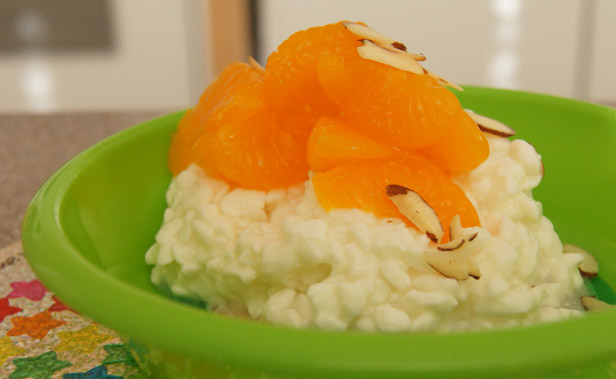 350 g of cottage cheese (20% fat)
1/2 LH of cinnamon
2 LS of liquid honey
2-3 tangerines or 1 orange
2 LS shredded coconut
2 Almond flakes
a pinch of ground cloves
a pinch of ginger
a pinch of cardamom
for two
preparation time: ok. 15 minutes
1 portion – ok. 430 kcal
1. Put the cottage cheese in a bowl. If there is not enough creamy consistency, mix it with mineral water, until it becomes smooth. Add spices and honey – mix everything well.
2. Peel the mandarins or the orange, while carefully removing the white layer. Divide the flesh into large pieces and mix with the cottage cheese.
3. Put the cottage cheese in two bowls, sprinkle with coconut and almonds.