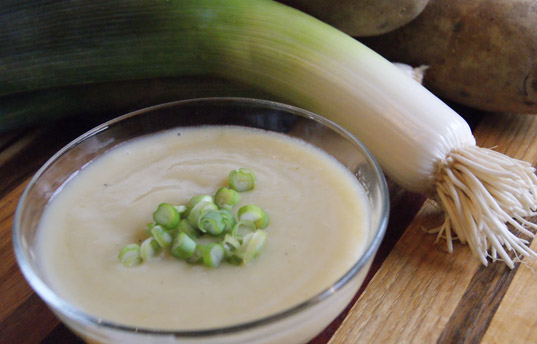 400 g pora
200 g of potatoes
1 ŁH of unhardened vegetable fat
for two
preparation time: ok. 1 hours
1 portion – ok. 250 kcal
1 onion
1 1/2 l of water
1 ŁH of vegetable broth
1 Bay leaf
60 g of sour cream
1 yolk
2 LS of chopped herbs (parsley, thyme)
a pinch of grated nutmeg
1. Leek to clean, wash and cut lengthwise in half, cut into thin rings.
2. Wash the potatoes, peel and cut into small cubes.
3. Peel the onion, dice and sauté in fat, make up with water and season with vegetable broth.
4. Add por, potatoes and bay leaf. Cook over medium heat, covered 20 do 25 minutes
5. Mix the cream with the żóhek and mix it with the soup. Season with freshly grated nutmeg, take out a bay leaf. Serve sprinkled with chopped herbs.