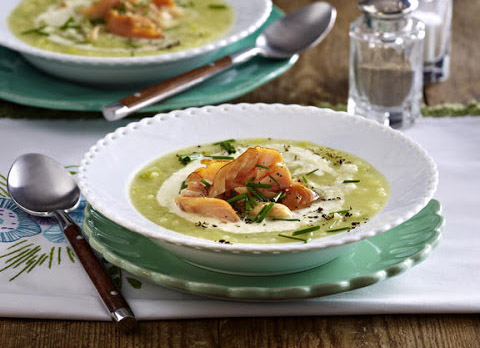 250 g of potatoes
1/2 1 vegetarian broth
1 cress packaging
3-4 smoked salmon slices
60 g of sour cream
a pinch of cayenne pepper
a pinch of grated nutmeg
for two
preparation time: ok. 35 minutes
1 portion – ok. 290 kcal
1. Wash the potatoes, peel and cut into two-centimeter pieces. Boil together with the vegetable stock.
2. Boil the potatoes for approx. 20 minutes. During this time, rinse the cress and cut it with scissors or a knife. Put it down 1 a tablespoon of watercress. Add the rest to the broth after the potatoes are cooked.
3. Cut the salmon into thin strips. Blend the soup into a puree. Separate one tablespoon of cream, mix the rest with a little soup in a small bowl.
4. Whisk this mixture with a whisk along with the rest of the soup. Season with salt, cayenne pepper and nutmeg.
5. Pour the soup into two deep plates and garnish with cream and watercress. Spread the pieces of salmon on top.