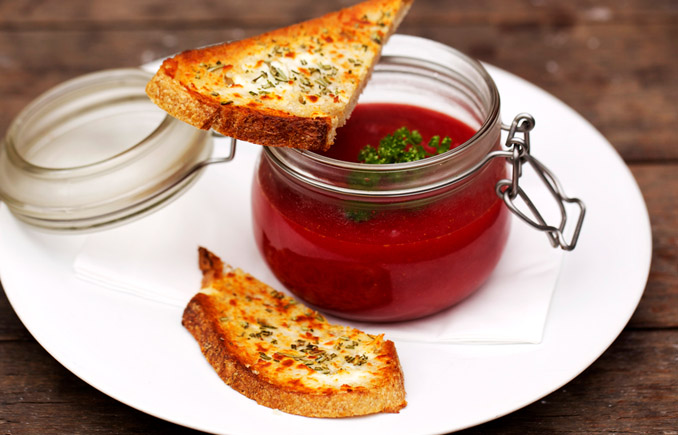 1 potato (ok. 100 g)
2 beetroot (ok. 150 g)
150 ml of cold vegetarian broth
150 ml of cold beer (e.g.. pilsner)
1 ŁH of grated lemon peel
1/2 ŁH of fructose
1 clove of garlic
1 a sprig of dill
2 LS sour cream
a pinch of powdered allspice
a pinch of iodized salt
You can add thin strips of matiesa fillet to this soup. It is a good addition to potatoes and beets and belongs to the neutral group.
for two
preparation time: ok. 45 minutes
1 portion – ok. 370 kcal
1. Wash the potatoes and beets thoroughly and put them in the pot. Add lightly salted water, Boil everything once and then cook it again, covered, approx. 25 minutes.
2. Shake the potatoes and vegetables and let them evaporate briefly. Remove the beetroot shell under running water. Peel the potatoes. Cut both vegetables into large cubes and set aside two tablespoons of them.
3. Pour the vegetable broth along with the beer, lemon zest and fructose to a pot or a tall dish. Blend the potato and beetroot pieces into a puree.
4. Season the soup with salt, English weed and set aside, until it cools down.
5. Meanwhile, preheat the oven or grill. Slice the bread diagonally into thick slices 3 cm and toast them in the oven or on the grill.
6. Peel the garlic. Rub the toasted bread with it. Put the leftover pieces of potatoes and beetroot into two deep plates, pour the soup and season with cream. Serve with croutons.