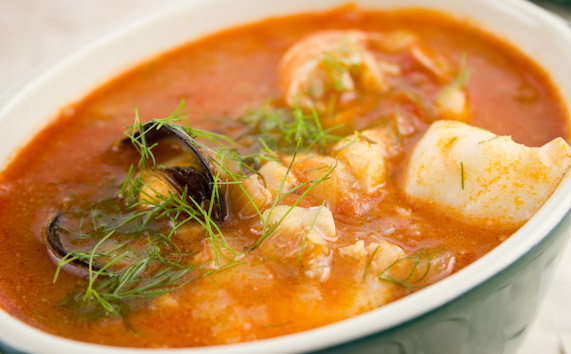 1 a small onion or shallots
1 hard tomato
1 a small bulbous dill (ok. 150 g)
300 g of mixed fish fillets
500 ml of vegetarian vegetable broth
1 a pack of saffron (0,2 g)
a pinch of herbal salt
a pinch of cayenne pepper
for two
preparation time: ok. 1 hours
one serving – 230 kcal
1. Cebulę obrać i pokroić na bardzo cienkie paski. Cut the tomato and put it on 10 immerse in boiling water for seconds. Then cool and peel. Cut the peduncle. Cut the pulp into quarters, remove the stones and cut into thick cubes 1 cm.
2. Koper umyć i oczyścić. Cut into very thin strips. Wash the fish, dry with a cloth and cut the fillets into pieces three centimeters thick.
3. Bulion wlać do garnka, add saffron and heat it up. Add the onion and dill, boil once and then cook, covered, for 3 minutes.
4. Kawałki ryby włożyć do wywaru i wszystko razem jeszcze raz zagotować. Boil the soup through 5 minutes, covered over low heat. Season with salt and cayenne pepper and serve immediately.