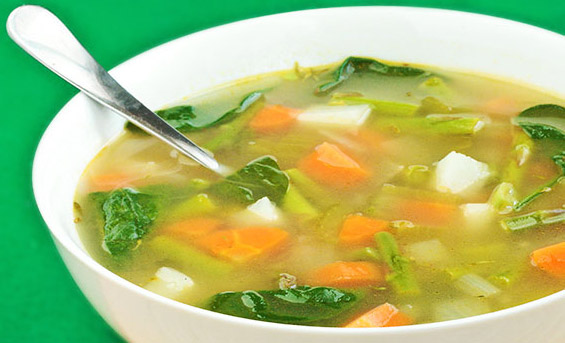 A bunch of vegetables
1 LS cold pressed sunflower oil
1/2 l vegetable broth
2 LS of finely chopped parsley
for two
preparation time: ok. 25 minutes
1 portion – ok. 110 kcal
Other types of vegetables can also be cooked in the broth (e.g.. broccoli, cauliflower or peas). Please note, that some vegetables (e.g.. potatoes or scorzonera) belong to the carbohydrate group.
1. Clean the greens, wash and cut into small cubes.
2. Gently heat the oil in a pot and fry the vegetables for a few minutes, stirring all the time.
3. Top up with vegetable broth, Boil the soup for approx. 15 minutes. Sprinkle with parsley.