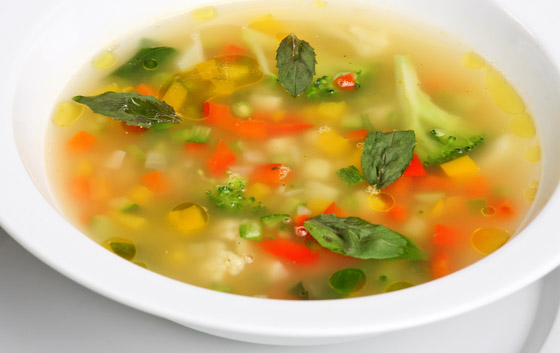 3 carrots
1 average cf
300 g of potatoes
1 Red pepper
150 g zucchini
1 LS butter
1/2 l vegetable broth
2-3 peeled garlic cloves
3 LS of chopped parsley
a pinch of herbal salt
a pinch of cayenne pepper
for two
preparation time: ok. 15 minutes
1 portion – ok. 260 kcal
1. Wash the carrots, clean, peel, cut into thin slices. Leek to clean, wash, cut into thin rings.
2. Peel the potatoes, wash and cut into small cubes. Wash the peppers, wipe dry, cut in half, remove the stones and dice them as well.
3. Clean the zucchini, wash, wipe dry, cut lengthwise into quarters and cut into slices.
4. Heat the butter in a pot and fry the carrots in it for a few minutes over low heat. Add vegetables prepared earlier and slowly pour in the broth, constantly stirring.
5. Add garlic to taste and bring it to a boil again. Cover the pot and cook everything over low heat for approx. 20 minutes. Season the soup with salt and cayenne pepper. Sprinkle with parsley before serving.