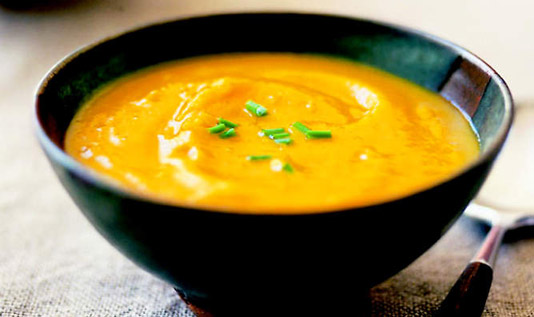 250 g of fresh pumpkin
1 Pumpkin Seed Oil
1 1/2 LS of liquid honey
300 ml of vegetable broth
3 coriander sprigs
3 ŁS sour cream (dense, fresh cream)
2 ŁS of whey concentrate
2 SS of peeled pumpkin seeds
a pinch of iodized salt
a pinch of freshly grated nutmeg
a pinch of powdered allspice
for two
preparation time: ok. 25 minutes
1 portion: ok. 310 kcal
1 Peel the pumpkin, remove the stones and cut into thick pieces 2 cm. Heat the oil in a pot and brown the pumpkin pieces in it. After two minutes, add the honey and make up with the broth.
2. Boil everything once and stew the vegetables, covered for approx. 15 minutes. Wash the coriander, dry with a cloth and tear off the leaves from the stems.
3. Subtract one tablespoon of creme fraiche. and mix the rest in a bowl with the whey concentrate. Mix the pumpkin in the broth, add to the creme fraiche 5 tablespoons and mix everything together.
4. Finally, mix all this with the soup and season with iodized salt, nutmeg and allspice.
5. Pour the pumpkin soup into two deep plates and season each 1 ŁH sour cream. Finally, sprinkle with pumpkin seeds.