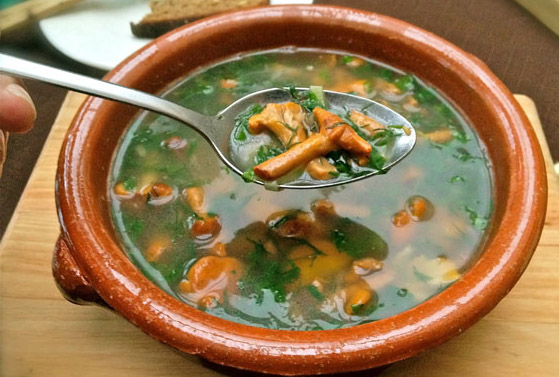 250 g of fresh chanterelles (possibly. mushrooms)
1 a small onion
1 veal schnitzel (ok. 150 g)
2 Sunflower oil
80 g of cream
350 ml of vegetarian vegetable broth
3 chervil twigs
a pinch of herbal salt
for two
preparation time: ok. 45 minutes
1 portion – ok. 380 kcal
1. Clean the cocks. Peel the onion and dice it into small cubes. Cut the meat into thick strips 1/2 cm and length 4 cm.
2. Heat the oil in a pot. Fry the veal thoroughly on all sides. When it is evenly browned, take it out and put it on a plate. Fry the onion and mushrooms in the remaining fat.
3. After 10 minutes, remove from the pot 2 tablespoons chanterelle and add to the meat. Top up the rest with cream and broth, boil once and mix.
4. Season the soup with herbal salt, boil it again and cover, so that it does not cool down. Wash chervil, dry with a cloth and tear off the leaves from the stem.
5. Put the pieces of meat and mushrooms aside on two pre-heated plates and pour the soup. Take on with chervil.