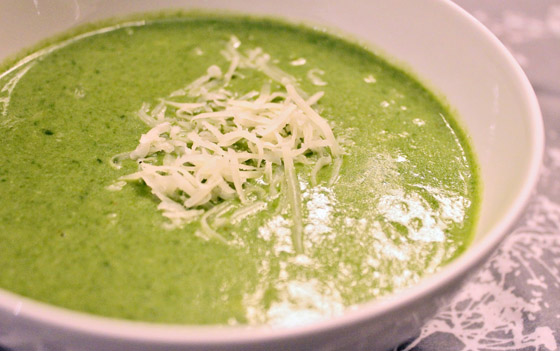 300 g of fresh spinach
1 onion
1 clove of garlic
1 ŁS of cold pressed olive oil
50 g of cream
350 ml of vegetable vegetarian broth
a small sprig of rosemary
100 g will be owczego
a pinch of herbal salt
a pinch of freshly grated nutmeg
for two
preparation time: ok. 30 minutes
1 portion – ok. 310 kcal
If you don't get fresh spinach, you can use frozen food. Defrost time – ok. 3 hours.
1. Thoroughly clean and wash the spinach.
2. Peel the onion and garlic and chop finely. Heat the oil in a pot and stew the onion and garlic in it. Then pour in the cream and broth.
3. Coarsely chop the spinach on a board and add to the rest of the ingredients in the pot. Boil everything once and mix until mashed.
4. Season the soup with herbal salt and nutmeg. Wash the rosemary and dry it with a cloth. Tear off the leaves from the stem, chop finely and add to the spinach soup.
5. Crumble the sheep's cheese finely. Pour the soup into two deep plates and sprinkle with cheese.