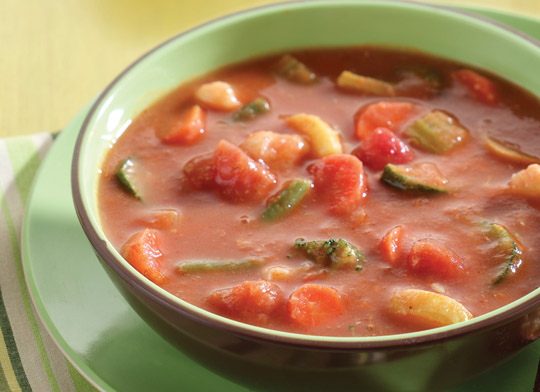 300 g of ripe tomatoes
100 ml of vegetarian broth
1 Green cucumber (ok. 10 cm)
1/2 red pepper
1/2 green peppers
1/2 yellow pepper
1 shallot
1 clove of garlic
1/2 a bunch of chives,
2 basil sprigs
1 ŁS of chili oil
a pinch of iodized salt
for two
preparation time: ok. 35 minutes
1 portion – ok. 120 kcal
1. Wash the tomatoes and cut the stalks. Cross the skin and dip the tomatoes over 10 seconds in boiling water. Then take it out, cool and remove the skin.
2. Dice the pulp into thick cubes 1 cm. 2/3 blend to puree together with the broth. Pour the soup into a bowl or pot.
3. Wash the cucumber and peppers. Remove the seeds from the pepper and chop the flesh together with the cucumber into small cubes. Add to the tomatoes and the broth.
4. Peel the shallots and garlic. Squeeze the garlic through the vegetable press'. Dice the shallots and add them to the soup as well.
5. Wash the herbs, dry with a cloth and tear off the basil leaves. Put a few away, and chop the rest very finely with the chives.
6. Season well with herbs, chili oil and iodized salt. Pour into two deep plates and garnish with basil leaves.