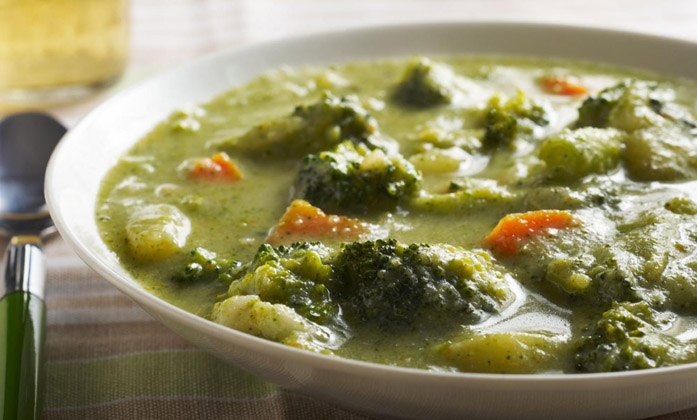 400 g broccoli
1 carrot
1 onion
1/2 l vegetable broth
1 LS Cold Pressed Olive Oil
1 ŁS bran from spelled
60 g of sweet cream
1/2 ŁH cayenne pepper
1/2 ŁH of grated nutmeg
2 LS of chopped parsley, a pinch of herbal salt
for two
preparation time: ok. 30 minutes
1 portion – ok. 140 kcal
1. Wash the broccoli, clean and cut green parts. Peel the stalks and cut them into slices. Wash the carrots, clean, scrape and dice. Peel the onion and dice it.
2. Heat the vegetable broth. Heat the oil in a pot and fry the onion until golden brown. Sprinkle with roasted spelled and stew it all together. Add hot broth, constantly stirring, and bring everything to a brief boil again.
3. Add the broccoli stalks, halves of the green parts and the carrot and cook it all together, covered, over low heat for approx. 10 minutes, until the vegetables are soft.
4. Blend the vegetables in the soup into a puree. Add the cream and the rest of the broccoli. Season the soup with herbal salt, cayenne pepper and nutmeg and bring it to the boil again 5 minutes. Sprinkle with parsley.