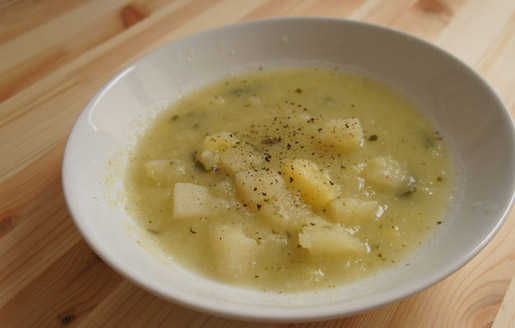 2 fish backpack
1 onion
1 clove of garlic
1 LS olive oil
1/2 l vegetable broth
60 g of sweet cream
2 LS of chopped parsley
1 LS of chopped dill
2 smoked salmon slices
1 LS of chopped chives
a pinch of herbal salt
a pinch of grated nutmeg
for two
preparation time: ok. 30 minutes
1 portion – ok. 320 kcal
1. Wash the kohlrabi, peel and cut into quarters. Set one quarter aside, dice the rest. Peel the onion and dice it. Peel the garlic and squeeze through the press.
2. Heat the oil in a frying pan. Glaze the onion and garlic in it. Then add the diced kohlrabi and stew too. Add the broth, bring the vegetables to a boil and simmer for 15 minutes under cover
3. Meanwhile, grate the remaining kohlrabi coarsely. Blend the soup, add cream, parsley and dill and season with herb salt and nutmeg.
4. Cut the salmon into small squares and spread over two plates. Pour in the soup and sprinkle with kohlrabi shavings and chives.