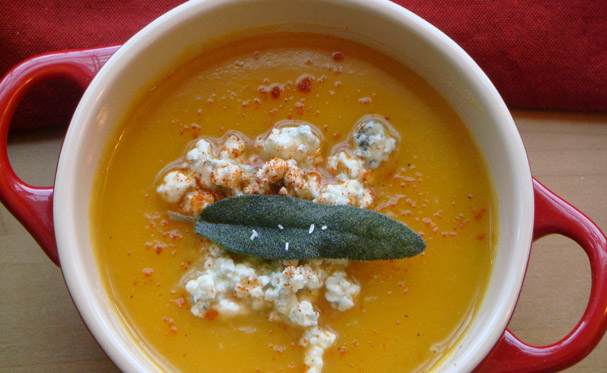 250 g cards
1 NS of walnut oil
1 ŁH of liquid honey
300 ml of vegetarian broth
60 g will be roquefort
3 ŁS sour cream (dense, fresh cream)
5 to marry (dwarf oranges)
3 chervil twigs
a pinch of cayenne pepper
a pinch of iodized salt
for two
preparation time: ok. 35 minutes
1 portion – ok. 320 kcal
1. Karotki umyć, peel and cut into thin slices. Heat the oil in a pot and fry the vegetables in it. After two minutes, add the honey and sauté the carrot slices for two minutes, constantly stirring.
2. Warzywa zalać bulionem i gotować wszystko na małym ogniu przez 15 minutes.
3. W tym czasie rozgnieść ser widelcem w małym naczyniu. Add the creme fraiche and mix everything until smooth.
4. Kumkwat umyć pod gorącą wodą, wipe dry with a kitchen towel and cut into thin slices with the skin. Set aside. Wash chervil, Tear the leaves off the stems and set aside as well.
5. Zmiksować zupę w garnku na krem. Mix the cheese and cream with four tablespoons of hot soup and add to the mashed potatoes. Season with cayenne pepper and add some salt if necessary.
6. Zupę nalać do dwóch głębokich talerzy i przybrać plastrami kumkwat i trybulą.