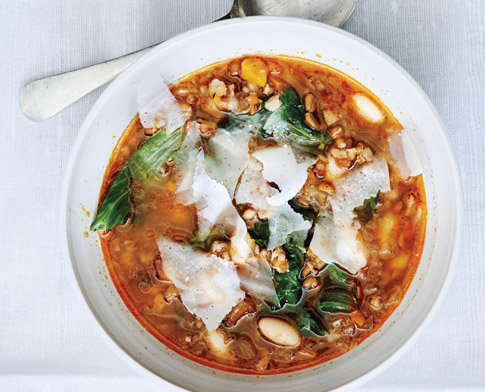 100 g spelled grains
4 large pores (after cleaning approx. 800 g)
40 g of butter
2 ŁS of finely ground wholegrain spelled flour
1 1/2 LS vegetable broth
1 ŁH ground cumin
40 g of sour cream
1-2 ŁH curry
2-3 LS of chopped parsley
for 4 people
preparation time: ok. 45 minutes
swelling time: ok. 8 hours
1 portion – ok. 120 kcal
1. Pour water over the spelled and leave it covered for approx. 8 hours (for night), until it swells.
2. The next day, cook in the same water over low heat, covered approx. 25 minutes.
3. During this time, cleanse the pores, cut lengthwise in half, wash thoroughly and cut into thin strips.
4. Dissolve the butter in a pot and stew the vegetables in it. Sprinkle with flour and add, stirring, 3/4 l of water.
5. Season the leeks with vegetable broth and caraway seeds, and then cook the soup, covered over low heat for 12-15 minutes.
6. Add the cooked spelled grains to the soup. Finally, mix the sour cream with the curry and pull it hot (but me boiling) soup. Sprinkle with parsley before serving.