Filtering tinctures and vodkas
Filtering ready-made vodkas and liqueurs is often the most strenuous activity. Some tinctures clear up on their own, while others, unfortunately, do not. I will try to present my own approach to filtering tinctures.
The easiest way to filter tinctures is tetra. It works well as the first stage of Kidy filtering, while fruit particles float in our tincture. Place the tetra on a metal sieve. The more impurities there are, the fewer times we fold a tetra (we overflow through fewer layers). Enough at first 1 layer. It will keep us from greater visible pollution. If the tincture is thick and still very cloudy, we can pour it through successive denser layers of tetra, e.g.: by 2,3 whether 4 tetra layers. We make subsequent transfers every 4-6 days.
If there is already a very fine flesh in the tincture that goes through the tetra, we can use cotton wool. We can put the cotton directly on the sieve, or put between layers of tetra. The cotton wool will keep most of the small impurities.
For the filtration of tinctures and vodkas, we can use glass filter tubes.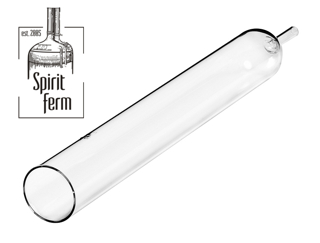 Such a glass filter tube is placed with a narrowing in the cork with a hole (in such a rubber stopper with a hole used for glass balloons) and stick, for example, into a balloon. We fill the pipe with a cotton wool tetra (do not fill the pipe with cotton wool alone as it will compress too much during filtering). Put a funnel on top of the pipe and pour the tincture.
To clarify the tincture or vodka almost perfectly, filter filters are the best. We fold the filter filters into an accordion, Soak it with water and put it in a strainer or funnel and then pour our tincture. Filtering through a filter should be carried out on the pre-clarified tincture, for example, on a tincture that we have already filtered through tetra several times.
It is important to try to clarify the tincture naturally. A tincture matured in a bottle can shed sediment for months or years. Therefore, we should not pour the tinctures into pretty bottles right away. It is better to mature the tinctures in larger jars and then pour them into nice bottles above the sediment before tasting..
This article was found on Google Search, including. through the following key phrases:
filtering tinctures
how to clarify the tincture
filtering fruit liqueurs
filtering the methyl tincture
how to clarify the tincture
how to clarify the tincture