Home wine made of currants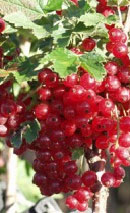 Homemade currant wine.
Currants are of great dietary importance, are an excellent source of many vitamins: A, B1, B2, i C, contain organic acids, tannins, fiber, iron compounds, calcium and trace elements.
It should be mentioned, that black currant has more vitamins and trace elements than white and red currants. The period of fruiting and harvesting (depending on the type) falls from July to
end of August. White and red currants are a very easy and graceful material for house wines, They are recommended for people starting their adventure with home wine.
Currants give up juice easily, ferment easily and often self-clarify quickly. Currant is not an expensive fruit, it is easy to grow and can be used for dry and sweet wines, single-fruit or combine with other fruits, obtaining multi-fruit wines. Choosing fruit to prepare your wine, care should be taken that they are fully ripe and not too acidic.
When setting the wine, remember not to dilute the must too much (do not add too much water to the fruit), for the wine obtained will have a faint taste (too little extract, there is talk of an "empty" wine) and will be prone to disease. The upper limit of dilution is 2 liters of water (water + sugar) on 1 kg of fruit - this limit should not be exceeded. In the case of very sour currants, we can prepare a mixed wine by adding it to the currants: apples, gooseberry, raspberries or any other fruit that comes to our mind.
Currant wine recipes, settings for a 15l balloon:
Light house wine 12%:
fruit 4.5 kg
water 5.5l
sugar 1.8 kg
House wine stronger 18%:
fruit 5 kg
water 5l
sugar 3kg
Mixed currant wine 16-17%:
red currant 5 kg
black currant 1 kg
water 5l
sugar 3kg
Mixed currant wine, strong (16-17%):
currant must 3l
gooseberry must 1.5l
apple must 1.5l
strawberry must 0.5l
water 3.5l
sugar 2kg
When choosing yeast for currant wine, we recommend Italian active yeast: ENARTIS Ferm AromaWhite or ENARTIS Ferm RedFruit and ENARTIS START or SUPERIT medium.
As for black currants, for winemakers they are a much more desirable ingredient of home wines. Black currants have a lot more extract, dark dye and vitamins. Because of its aroma, Black currants are less often used to make light single-fruit wines. They are used rather for heavy ones, dessert wines, intended for long storage (2-3 patch) or as coupage wines (mixing with other wines, to enhance the color, taste and smell of "weaker" wine, mostly applies 0,5 up to 1l of blackcurrant wine for 20l of other dessert wine).
Found on google via:
currant wine
black currant wine
red currant wine
red currant wine
How to make currant wine
currant wine
red currant wine recipe