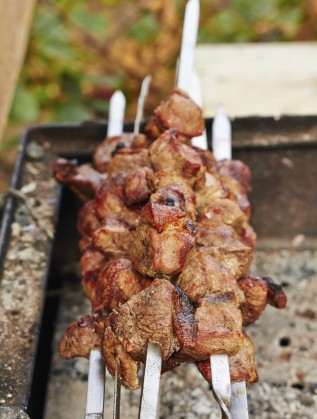 Our Sofia friends were very sorry, that we cannot take part in an authentic celebration that opens the shepherd's season and decided to reward us for this injustice. So, on a beautiful May day, we were invited to the "Saint George party", as they put it, to the famous sub-Sofi town - Bojana.
The society was in great spirits and tried to stick to tradition, but unfortunately it had to be slightly modified, adjusting to real possibilities. Thus, instead of the usual ram over the fire, a "forest kebap" was baked". We were a bit disappointed with this fact, but when the well-known journalist and literary critic Miszo Nedełczew, responsible for the culinary side of the event, began to subject meat brought from his home to various mysterious practices, our curiosity was excited to the highest degree. And because roasted meat and juicy peppers exuded a wonderful smell, which hovering over the fire combined with the aroma of the spring meadow, we were looking forward to the end of the complicated procedures. But it was still far away to the end. The appetite grew more and more, when the meat was sticks, we sighed, when they were smeared with oil and slowly turned over the fire, but our impatience has reached its zenith, when Misha was ready, he placed it on the leaves and wrapped it in a large white cloth. This is the final stew in the leaves, that is, the dot above the "i", it only took a few minutes, for us it was a time of testing.
Once, however, the feast had begun, we concluded unanimously, it's just a miracle, symphony for young lamb, paprika and Bulgarian spring, and in general, it was worth the wait. We also think, that objectively there are no obstacles, to turn on 'forest kebap" to the camping menu in Poland, even if it is to be short, sunday trip out of town. You can try it out, without waiting for St.. George.
This kebap is prepared partially at home, which makes it very easy to prepare it outdoors. Thus, 1 kg of mutton (preferably sirloin) should be cut into pieces. Add 10-12 bunches of young onion and 3-4 hot peppers - chop all finely. Season with salt, sprinkle with pepper, mix well and place in a plastic bag. You also need to take some paprika pods and some mushrooms with you. At the camping site, wash and clean the mushrooms, the larger ones should be divided into two parts, salt it. Attach the sticks in sequence on properly prepared sticks: a piece of lean meat, paprika, a piece of fatty meat, mushroom etc.. Brush the prepared kebap with oil and bake it over the fire, turning it slowly. Place the beech leaves on a tablecloth, place the kebap on them and wrap tightly, to choke another 5-6 minutes. After unrolling from the drape, serve.
Responding to our interest in the theory of "forest kebap."", Misha gave us another variant of this camping dish: 1 kg of young mutton or veal cut into pieces. Add 3-4 sliced ​​onions, 3—4 hot peppers, a bunch of parsley leaves, a little mint and 3-4 bunches of young garlic, everything finely chopped. Mix the additions well with the meat, hot oil (4 spoons), salt and pepper. Wrap the prepared kebap in a parchment paper package and put it in a nylon bag. When camping, wrap the kebap in two more sheets of parchment, wetting them from the outside with water. Cover the package with heat and bake for approx. 90 min. - serve warm.