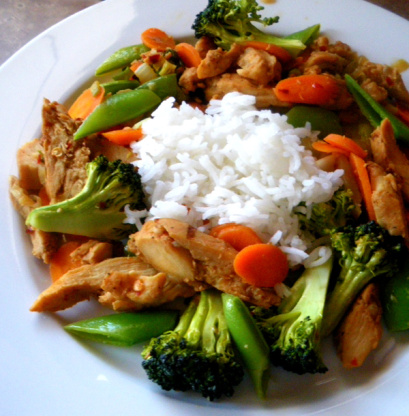 Chicken with vegetables "in Chinese"
4 portions - 1 a serving contains approx. 410 kcal
2 carrots
1 for
1 onion
1 big either 2 smaller courgettes
1 broccoli
2 or 3 chicken breast fillets
5 spoons of olive oil
garlic at your discretion
a can of tomatoes with basil (if they are unavailable, you can season tomatoes with basil yourself)
a few cashews (25 g)
Parsley leaves roughly chopped
200 g of brown rice possibly: raisins
2 pineapple slices diced
salt, pepper, basil, thyme, oregano
Wash the chicken fillets, dry it, cut into thin longitudinal strips. Lightly salt it, sprinkle with pepper and fry in a wok. Wash the vegetables and cut them into thin strips and fry them like chicken fillets. Add the leek cut diagonally into thicker slices and finally the broccoli, which should be fried briefly, so that they do not lose their nutritional value. Add the garlic pressed through the press, nuts and possibly raisins and pineapple. Pour over the tomatoes and sprinkle with coarsely chopped parsley. Mix everything and season to taste with pepper, basil, thyme and oregano. Serve with wild or whole grain rice. The dish is healthy and very nice, presents itself colorfully. It can be successfully served to guests with a glass of red wine.