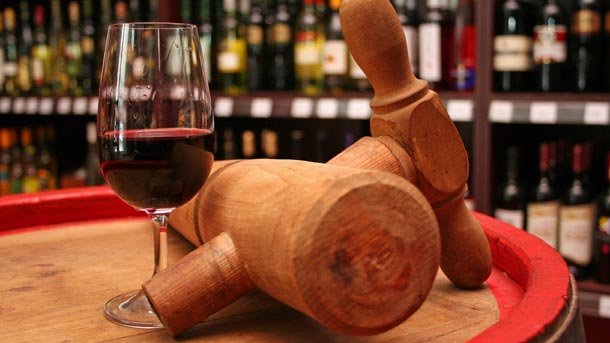 We were introduced to the secrets of Bulgarian winemaking by the manager of the Varna Wine Chamber, P.. Karakashev, who claims, that the grapes currently harvested in Bulgaria meet all the conditions, required for the production of the highest quality wines, not inferior to Spain in this respect, Italy or France.
Dry wines are obtained from grapes taken early, heavy with juice. Semi-dry ones are made of very ripe fruit, almost withered, covered with a silvery coating. Sweet wines are made from grapes, which it removed from the bush as late as possible and dried.
The most famous and valued Bulgarian wines are dry red wines; and the most popular among them are:
• Cabernet - wine obtained from French grape varieties, relatively recently grown in Bulgaria.
• Gamza - wine obtained from a typical Bulgarian grape variety of the same name. It is grown in Thrace and on the Danubian Plain (Widin, Plow, Pavlikeni, Suchindol, Kramolin). It has a pleasant aroma, with a refreshing taste and a dark ruby ​​color. It is the basis for exporting Bulgarian wines to many European countries. Gamza has won many gold and silver medals at international wine competitions, m. in. in Budapest in the years 1958, 1960, 1965.
• Mavrud - the pride of Bulgarian red wines - from high-quality Thracian grapes grown in the Asenovgrad region, Plovdiv and Pazardzhik. It is distinguished by a rich fragrance bouquet, is constantly awarded at wine competitions.
• Melnik - thick wine, heavy, with a pleasant aroma and high potency (13% alcohol). It is considered one of the best Bulgarian wines. The taste resembles the Spanish "Alikante". He is a native of western Bulgaria (Melnik, Blagoevgrad). Grapes of the "wide mełnisika" variety".
• Pamid - obtained from the most aromatic and sweet grapes of the same name, grown in the vicinity of the village of Karabunar. Hence, Pamid is also often referred to as "Karabunar" wine". After a short lying position, it has a light red color, contains tannin and organic acids. It is not suitable for longer storage.
• Trakija - blended wine (mixed), which it consists of 60% Pamidu i 40% Mavrudu. It is a high-quality wine, however, it is not suitable for long-term storage.
All dry red wines contain up to 13% alcohol and 5 g of sugar per 1 I.
Bulgaria also produces excellent dry white wines. The most famous are:
• Misket - a delicate wine, slightly greenish color and strong aroma. They are obtained from grapes of the same name, grown in the vicinity of Karłów and Songulare (Rose Valley). It is usually marked on the bottles, that it is "Misket Karłowski" albo "Marble Results".
• Dimiato - from grapes of the same name grown in the Black Sea region (Shumen, Color, Burgas, Pomorie, Czirpan). They are characterized by a light yellow color and a delicate flavor. It grows in value after 3 to 4 years of age.
• Ewksinogradzkie - a wine with a special mild taste, delicate aroma, golden color, available almost exclusively in Druzhba or the Evksinograd cellar - the former summer residence of the Bulgarian tsars, because this "wicked."" he likes land in the vineyards of the palace.
• Riesling - dry, light green in color, with a pleasant refreshing taste; comes from vineyards near Ruse, Varna, Shumen, Targovishte, Laskowiec.
• Danube Pearl - a wine with a very delicate flavor and aroma, from grapes' fetiaska ałba".
• Złatni Piasici - of the genre "juni blan" light amber wine, semi-dry, resembles French wines, comes from the vicinity of Varna; gains with "aging".
• Rkaciteli - white wine made from rkaciteli grapes", light yellowish, with a pleasant specific smell, resembles Georgian wines. This grapevine is grown in the vineyards of Varna, Shumen, Targovishte.
• Formerly Famous - mixed wine.
White wines contain 11-12.5% ​​alcohol and 0-5 g of sugar per 1 I.
Dessert wines with a high sugar and alcohol content include:
• Sławianka - a red bowl made of grapes". A white wine with a great taste, "Misketowym" odor and high glucose content; resembles French Muskatel wine.
• Madara - made from "gamza" and "dimiat" grape juice" from the regions of Varna and Shumen; it has a nice tea color, the taste of "sunny", similar to Portuguese Madeira.
• Asenovgrad - high-quality red dessert wine (semi-sweet) from grapes of the 'mawrud", awarded with gold medals in Budapest.
• Pomorie - clear red, quite sweet and strong (17% alcohol) from grapes' dimiat" i "marble".
• Rubin - sweet red dessert wine.
• Stanimyszka Malaga - resembles the Spanish Malaga, sweet wine, heavy, strong (18—20% alcohol), produced and grapes "Mawrud".
• Sea Wyłni - white dessert wine from the Burgas area.
• Burgas - dark red wine, similar in taste to Pomorie and Rubin wines.
Herbal wines are used in Bulgaria as an addition to cocktails or aperitifs, as Vermouth Varna (Red) or Vinprom and Ciocisan (White). They include from 14 do 20% alcohol, and sugar - depending on the type of wine - from 30 do 170 g na 1 I.