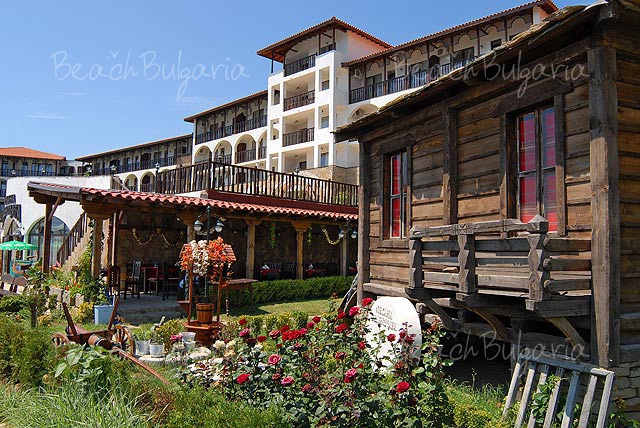 One of the most pleasant places of this type on the entire Black Sea coast is "Wodenicata" in Golden Sands. We discovered the special atmosphere of this place in winter, when the silence and lack of rush prevailing here deepened the impression of full authenticity. So often, when entering through the gate arched in the wall, the courtyard brightened with the February sun, we couldn't help but be impressed, that we are in a real mill. We missed the car after all, from which the horses had been unhitched and the sacks of grain were thrown away. A giant wheel slowly rotating and the water rushing from it, they confirmed this belief.
It seemed, that when we go inside, there we will find the farmers waiting for flour to be ground. But on such winter mornings in "Wodenica" there were only waiters. Sitting on a homespun "red cherry."" We felt very at home on the bench. Pouches with wheat hanging from the ceiling, garlic strings, onions and "February" czushki, beautiful Trojan ceramics on the shelves and tables covered with red embroidered napkins created a very cozy interior. In this scenery, we liked the best "Kawarma by Wodeniczarski", that is "in milling". This dish, served in clay pots, consists of oven-baked pork and veal liver and mushrooms, onions and hot peppers, and it is seasoned with red wine.
The sophisticated styling of "Wodenica" especially the shoulder, to which you can go down a squeaky ladder. It is a very modern and very "mill" interior". The old mill must have a giant stove and sacks of grain for sitting, to the present day - Bols and Camus advertisements above the rows of colorful bottles.