Dalgon's Coffee Recipe. How to make whipped coffee. Froth coffee.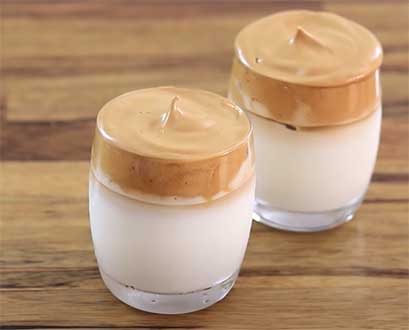 This coffee has so many names; Dalgon coffee, creamy coffee, bita kawa, cloud coffee, magic coffee and more. No matter what you call it, this cold coffee is AWESOME! This coffee is popular in Korea during the quarantine period, then became popular on TikTok, and now it's very fashionable all over the internet. Dalgon Coffee is a cold latte drink with a velvety smooth and sweet coffee foam on top. The combination of cold milk and bittersweet coffee is absolutely delicious. Dalgon Coffee is inspired by South Korean dalgona candy – toffee, which resembles a creamy portion that covers an iced coffee. So if you want to find out, how to make dalgona coffee, follow this simple recipe (only 4 ingredients).
INGREDIENTS
2 spoons

instant coffee

2 spoons of sugar

2 tablespoons of hot water

1/2 glasses (120 ml) milk of your choice

2-3 ice cubes
TIPS
1. Put coffee in the large mixing bowl, sugar and hot water (relative 1: 1: 1).
2. Using a hand blender or an electric blender, beat until thick and creamy.
3. Only fill up 3/4 cups with cold milk and add ice cubes.
4. Top up with frothy whipped coffee. Mix well before drinking. Enjoy!
Comments:
Do I have to use sugar? Sugar makes, that the coffee is compacted into a fluffy and stable consistency, which keeps its shape for a while. You can reduce the amount of sugar, but I'm not sure, will it be so fluffy. If you are really sugar sensitive, you can reduce it, just remember, that your coffee will not be so fluffy.

What kind of milk to use: You can use cow's milk, non-dairy milk, such as almond milk, oat milk or any other type of milk, which you prefer.

Can I make Dalgon's coffee without an electric blender? So, the coffee can be whipped with an ordinary whisk, this may take a little longer, but it is absolutely possible.
An instructional video on how to make dalgona coffee.