homemade Nutella – recipe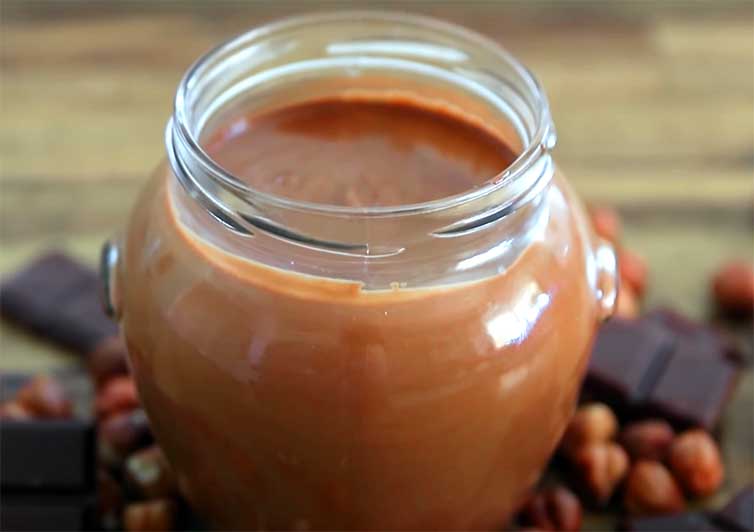 Homemade Nutella is a unique recipe for all Nutella lovers around the world. A few basic ingredients are enough, To learn, how to make homemade Nutella cream. Thanks to this homemade version of the chocolate-nut cream, you can control the sweetness of your favorite paste and it tastes even better than you can buy from the Nutella store. This recipe does not contain palm oil, so it is much healthier than the original Nutella cream.
INGREDIENTS FOR HOMEMADE NUTELLA
1 glass (140g) hazelnuts, raw
1 spoon (8g) cocoa powder
(340g) Milk chocolate
3 spoons (24g) powdered sugar
1/2 teaspoons of vanilla extract
2 tablespoons of oil
1/2 teaspoons of salt
TIPS
1. Preheat the oven to 175 ° C.
2. Spread the hazelnuts in a single layer on the baking sheet. We bake them in the oven for about 7-8 minutes, until they are lightly golden, and the skins will be slightly browned. Wrap the hazelnuts in a kitchen towel and rub vigorously, to remove as much loose skin as possible. Let it cool down completely.
3. Melt the chocolate in a microwave or on a steam bath. Cool slightly.
4. Put the hazelnuts in the food processor, grind the nuts, until they form a paste. Add oil, sugar, cocoa, vanilla and salt and continue blending, until the mixture is so smooth, as possible. Add the melted chocolate and blend until combined and smooth.
4. Strain the mixture, to remove any remaining hazelnut pieces (optional if you are bothered by small lumps of nuts). Transfer to a jar or other container.
5. Store the chocolate-nut spread in an airtight container at room temperature to 2 weeks. But I think it will be gone after a few days, it is so delicious.
Comments:
The best option for oil is hazelnut oil, if you can't find hazelnut oil, you can use rapeseed oil (preferably cold pressed which has a nutty flavor) or any vegetable oil.
You can use more or less sugar, depending on your preferences.
See an instructional video on how to prepare nutella at home