Chickennuggets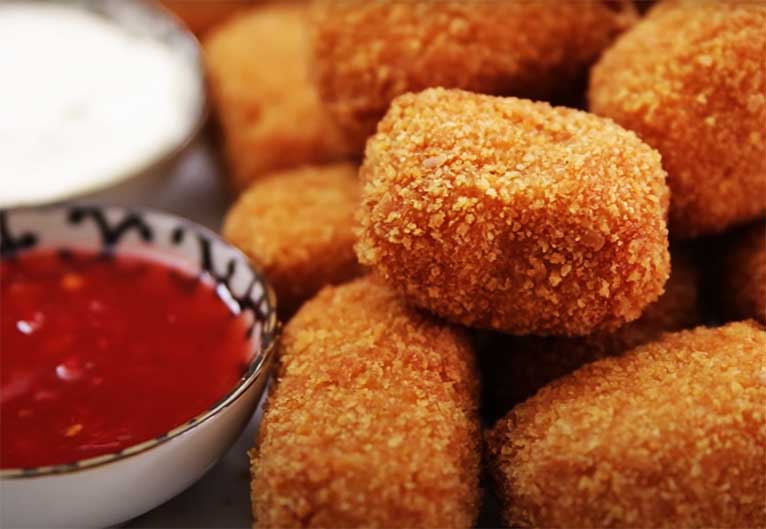 find out, how to make the best chicken nuggets. These homemade chicken nuggets are crispy on the outside and juicy on the inside. This recipe is easy to follow and everyone loves it.
INGREDIENTS
For the chicken mixture:
2 Chicken breasts (600g) cut into small pieces
1 spoon of salt
1/2 teaspoons of pepper
1 a teaspoon of garlic powder
1 teaspoon of paprika
3 spoons of breadcrumbs
For the batter:
Bread crumbs
Flour
3 eggs
Salt for flavor
pepper to taste
Garlic powder to taste
TIPS
Place the chicken pieces in the bowl of a food processor or blender, salt, pepper and garlic powder and breadcrumbs. Pulse to grind ingredients.
Make a rectangular nuggets out of the mass. Put them on a cutting board and put them in the fridge on 10-15 minutes.
Prepare 3 cups: in the first bowl, mix the flour and spices, in the second, beat the eggs, at the third, give breadcrumbs.
Coat each nugget in flour, dip in beaten eggs, then roll in breadcrumbs.
Heat the oil to 180 ° C.
Fry the chicken nuggets in batches in hot oil until golden brown, about 5-6 minutes.
Remove the nuggets from the oil and transfer to paper towels to drain.
Serve with your favorite dipping sauce.
Comments:
Can we freeze chicken nuggets?
So, Place the coated nuggets on a baking sheet or cutting board and freeze them 1 hour, then transfer to an airtight container or bag and freeze it in 2 months. Put in the refrigerator overnight before frying. Covered nuggets can also be stored in the refrigerator with a lid on 1 day.
Can we bake chicken nuggets in the oven??
So, these chicken nuggets can be baked. Preheat the oven to (190°C). Place the chicken nuggets on a baking sheet lined with parchment paper and bake through 15-20 minutes or until browning and baking.
How to Store Chicken Nuggets?
You can refrigerate the fried or baked chicken nuggets covered 3 days or freeze in an airtight container for 2-3 months. Reheat in preheated oven to (190°C), until they are thawed and ready to eat.
An instructional video on how to prepare the best chicken nuggets.