Meat dishes with wine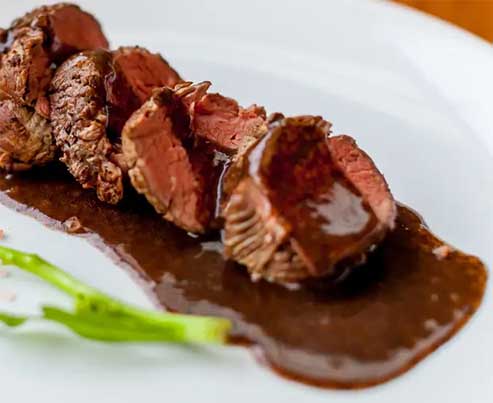 Marinade with wine
1/4 liter of dry black currant wine
1 large onion
1 carrot
parsley
a sprig of tarragon
2 shallots
a few mushrooms
grainy pepper
cloves
1 Bay leaf
juice from 1 lemons
Oil
Onions, Slice the shallots and carrots into thin slices and put them in a bowl with the rest of the ingredients, mix with currant wine, lemon juice and olive oil. Any type of meat can be marinated in such a marinade. However, for venison, vinegar is used instead of wine.
Lamb chop with plum wine
2 Lamb chops
1/8 liter of plum wine
butter
1 spoon of hawthorn wine sauce
some veal milk (thymus)
1 spoon of mushrooms
haha
flour
bread crumbs
Fry the chops in butter, baste with wine and simmer briefly. Meanwhile, make a paste of hawthorn wine sauce, veal milk and mushrooms and cool.
Brush one side of each cutlet with cold paste. Coat the chops in eggs, flour and breadcrumbs and brown them well.
Ham in hawthorn wine
1 smoked ham (other ingredients depending on the size of the ham)
milk with water
meat from broth
1 – 2 bottles of hawthorn wine
onion
carrot
parsley and celery root
bay leaves
cloves
grainy pepper
Soak the ham overnight in a brine of water and milk. The next day, take the bone out of it, and tie the ham. Now put it in a pot that is large enough with the remaining ingredients and put it on the fire. When it boils, reduce the flame and simmer it depending on the size by 2-4 at.

Grilled sausages with blackthorn wine
2 good sausages for baking on the grill
3 small onions
50 g mushrooms
1/2 sloe wine bottles
bread crumbs
Fry the sausages briefly, cut into lengths 4 cm, remove the skin from them and put them in a saucepan. Meanwhile, simmer the finely sliced ​​mushrooms and onion in butter.
Brown a few tablespoons of breadcrumbs and add them to the sausages together with the onion and mushrooms. Pour all this over with blackthorn wine anyway, for the wine to cover the sausages, and cook for more or less 15 min.
Wild boar ham in red wine
1 wild boar ham (the amount of the remaining ingredients depends on the size of the ham)
1 – 2 bottles of red grape wine
1/4 liters of broth
onion
carrot
parsley root
1 celery
a few bay leaves
some thyme
1/2 spoons of juniper seeds
a few peppercorns
cloves
Dry the ham with a cloth, salt and put into a sufficiently large saucepan. Add the given ingredients and red wine. Cover the pan and simmer the meat until tender over low heat. When it's ready, put them on a platter, put warm, drain the sauce, collect the fat from it and boil it over high heat. Season to taste, to make it spicy.