Kitchen and wine
Ten, who went to a lot of trouble, to make wine from fruits and berries, he will not only want to drink them, but will use them as a special type of ingredient in dishes, improving their taste.
I chose a few dishes here, typical of wine-growing regions, and such, which I tried myself and I like very much. Of course, this is just a choice, but most of all it is supposed to be an inspiration. There is a basic rule when preparing dishes with the addition of wine: sweet and heavy dessert wines (for example, strawberry or raspberry) they are especially suitable as an addition to desserts – soul, creams and jellies. On the other hand, dry wines can be added to spicy soups, sauces or marinades. All recipes are for two people.
Soups with the addition of wine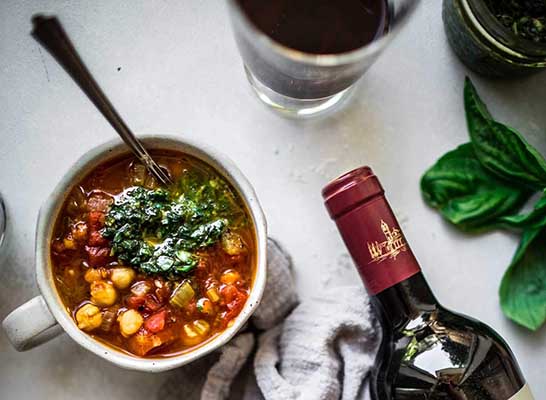 Wine soup with croutons of white bread
1/4 liters of broth
heavy cream
1/8 liter of white grape wine
diced white bread
2 yolks
some cinnamon
Heat the broth with the wine. 2 Whip the yolks with the cream and combine with the soup (the soup must not be too hot). Whisk the whole with a whisk for so long, until the soup is cream-like.
Meanwhile, make the bread croutons. Season the soup with salt and pepper, put on plates and sprinkle with a little cinnamon.
Sweet currant wine soup
1/2 liter of currant wine
80 – 100 g of sugar
60 g sago
some orange peel
Heat up the wine, add sugar and sago, do not cook! Then add the cinnamon and orange zest and wait, until the sago melts. Possibly add sugar. Serve hot.
Wine soup made from apples or pears
1/2 liter of wine from apples or pears
2 haha
80-100 g of sugar
cinnamon
lemon peel
butter
water
diced white bread
Make a roux with a teaspoon of flour and a little butter and spread it with a little water. Add eggs, sugar, cinnamon and lemon zest and beat with a foam whisk. Then add the wine and heat the soup carefully. Finally add 1/2 spoons of butter. Serve the soup with croutons of white bread.