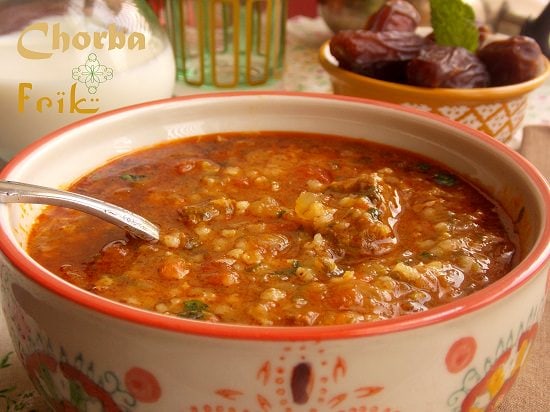 The basic dishes of Bulgarian cuisine also include all kinds of "chorba"", "Gyuweche" i "musaki". Czorby are spicy soups, which can be served hot and cold, and they come straight from Old Bulgarian cuisine. Next to the concept ,,moron" the term 'peel' is also used in Bulgaria"; there are, however, fundamental differences between the two. While the first one is cooked just like centuries ago on "low heat" combining all products at once, the latter - which is already a newer invention - is prepared at high temperature, and the ingredients are added gradually. "The insert" only pieces of meat can be used for chorba, tripe, vegetables and rice, while noodles or noodles are often added to the soup.
For centuries in Bulgaria, "Szkembe-Czorba" and "Kurban-Czorba" were of particular importance due to their high nutritional value., the preparation of which was associated with ancient religious rituals. In "kurban-czorbie"" finely chopped vegetables and meat are cooked together. Onions and tomatoes are stewed in fat, then adds flour. The roux is spread with the decoction of vegetables and meat, combining them together. When the meat is almost tender, dice are thrown, previously burned liver, rice, fresh tomatoes and hot peppers. Add to the soup, whisked with vinegar, eggs and finely chopped parsley and mint..
From the characteristic shape of the dishes, in which they are baked, got their name ,,gjuweche". These dishes are made of fatty foods, young meats - pork, mutton - without adding fat to them. Usually, when preparing gjuwecz at the beginning, lightly stew the meat with finely chopped onion and tomatoes. The remaining products are added raw, just before putting the food into the oven. Apart from meat and vegetables, gjuwecz also includes rice or potatoes. In Bulgaria, meatless gjuwecze are also prepared - e.g.. from rice and mushrooms, onions and peppers (gjuwecz in sheepskin) or green beans, tomatoes and onions (gjuwecz in Karakachan). These are light and very tasty dishes, served hot or cold.
Another type of casserole are the already mentioned moussaka. Meatless moussaka is made from potatoes, squash, green beans etc.. Vegetables are best stewed in a little water, and then - sliced ​​- is placed in a roasting pan. Cooked rice is placed between the layers of vegetables. The moussaka prepared in this way is poured with vegetable stock and fat, and then bakes in the oven. Before the end of baking, the whole thing is poured over with eggs, beaten with milk, and made into a hot oven., to make it crunchy, slightly browned skin. Meat moussaka is prepared from minced meat, potatoes, squashes, etc..