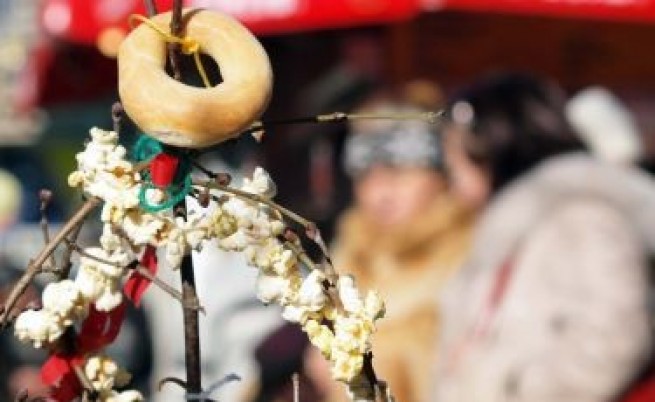 The New Year is traditionally greeted in Bulgaria with "Surwaknicami"", that is, rods entwined in a loop and decorated with flowers. With New Year's greetings, he strikes with "Surwaknica"" addressee of these wishes, saying:
..Surwa, surwa year, cheerful new godina!
A golden class on the cornfield,
Long live next year,
Ogodina, do amina!"
In free translation it means it:
"Happy New Year, Happy New Year! Golden wheat in the field, health, good luck next year. Amen!"
Vasilovden is celebrated on the first day of the New Year. Then the eldest housewife prepares a special banica, into which he puts dogwood twigs - a symbol of health and prosperity at home, and also a small coin. During the gala dinner, in the presence of all family members, she divides the cake into portions. Finding this coin in their piece of cake is led by the household members fortune-telling for the whole year.
Another beautiful winter tradition, which still survives in the Bulgarian villages, there are frolics of "Kukers"". These disguises visit rural farms during the Shrovetide period, and their dances are to ensure a rich harvest and an abundance of houses. The Kukers' outfit is original: it consists mainly of a mask with a complex structure put on the head, which, however, does not bring to mind an analogy with the Ku-Klux-Klan. The puppet hat is cheerful, moreover, the outline of the face is usually painted on it, it is decorated with artificial flowers, fruit, bird's nests, birds, small animals etc.. intricately placed on a wooden scaffolding. The dancer is wearing a sheepskin coat with the hair on top, girded with a leather belt, from which hang sheep bells of various sizes. Old, somewhat pagan in its character, the ritual of Kukers' dances has become popular not only in the folklore groups of Pernik, but also in the entertainment programs of nightclubs.
On one of the hills surrounding Golden Sands, sharp lines of roofs and decorative elements resembling the hats of "kukers" are white.". That bar "Kukerite", very expensive and very exclusive, in which the program is a special attraction - always interesting and exotic for foreigners, and developed on the basis of this old and at the same time living Bulgarian tradition.