Casseroles with wine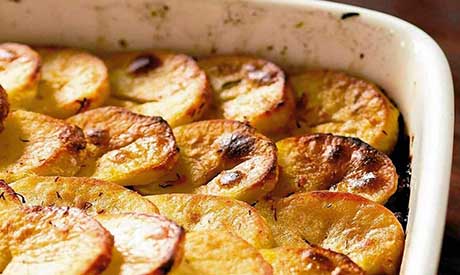 Regional potato casserole
1/2 kg of potatoes
1/8 liter of white grape wine
150 – 200 g of cooked ham (or smoked meats)
1/8 liter of milk
1/2 teaspoons of cinnamon
pepper
salt
marjoram
Peel the potatoes, sliced ​​and layered in a pudding form, alternating with the ham. Sprinkle with spices and pour over milk and wine. Bake in the oven for the first time 20 minutes under cover, and by further 2-3 at. uncovered over low heat. Who likes more "rich" dishes, he can take beef instead of ham, pork or lamb and liver, dice them and, lay out in layers in the form, as well as ham.
Cherry souffle
4 stale rolls
1/2 liter of red grape wine (or cherry wine)
2 haha
milk
1/2 kg of cherries
sugar
cinnamon
butter
Cut the buns into finger-thick slices, put them in deep plates and pour red wine. Leave them in the plates for half an hour, translating them from time to time, so that they are evenly soaked. Meanwhile, beat the eggs with 50 g of sugar, boil 1/8 liters of milk and pour boiling milk over the beaten eggs. Then put the mass on the stove and, still stirring, rub it for so long, until it has the consistency of a cream.
Grease the soufflé mold with butter, arrange the first layer of rolls, then put on the cherries (pitted!), Sprinkle them with sugar and a pinch of cinnamon, and then arrange the bread slices again. Pour over the egg cream and bake in the oven at approx. 180°C, until the surface turns brown and crispy.