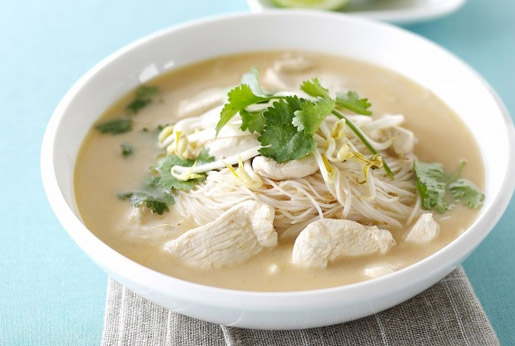 1 clove of garlic
1/2 onions
1/2 a pod of red chili
1/2 mango
2 spring onions
200 g chicken breast fillet
1 LS Cold Pressed Olive Oil
40About ml of vegetarian broth
100 ml of coconut milk
1/2 ŁH curry spices
3 coriander sprigs
a pinch of herbal salt
for two
preparation time: ok. 30 minutes
1 portion – ok. 290 kcal
Coconut milk can be prepared in a simple way, flooding 80 g of coconut shavings 300 ml of boiling water. Wait for approx. 2 hours, until they swell, then strain through a strainer and collect the milk.
1. Peel garlic and onion and chop very finely. Wash the chili pepper pod. cut lengthwise and remove the stones. Cut the flesh into narrow strips.
2. Peel the mango, Separate the pulp from the stone and cut into thin strips. Wash the spring onions, clean and cut into thick pieces 3 cm.
3. Wash the chicken meat, pat dry with a cloth and cut into thick cubes 2 cm. Heat the oil in a pot and fry the pieces of meat in mm on both sides.
4. Garlic, Add chili and onion to the chicken – fry for a while. Add the mango at the end and pour in the stock. Mix with coconut milk and boil everything together once.
5. Season the soup with herbal salt and curry and boil it in a closed pot for approx. 5 minutes. Meanwhile, wash the coriander and tear off the leaves from the stems. Make soup with them.