Getting juice cold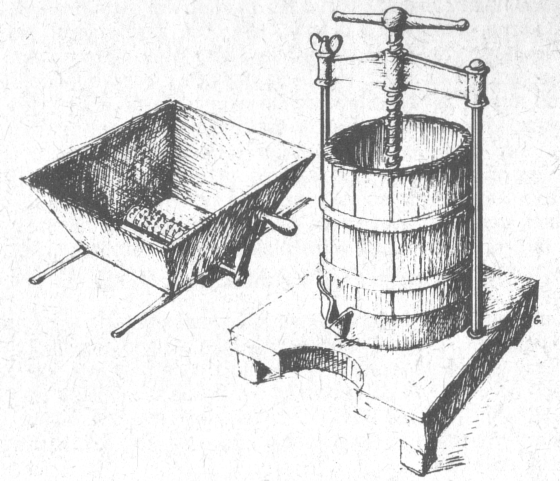 The main purpose of this website is to obtain juices for wine making, therefore, the cold juicing method is highly recommendable. There are different possibilities depending on the amount of fruit.
Meat grinder with juicing attachment.
Meat grinder Certainly found in every home. You can buy a juicing attachment attached to the front in a specialist shop. (The size is always indicated on the top of the razor). All berries are perfectly squeezed with this device. A snail in a meat grinder pushes fruit through the strainer of the appetizer, where the .screw is located, hindering the extraction of the pulp. The juice is running out, and the almost dry pomace is pushed outward through a small opening, caused by the screw not fully tightened. The size of the meat grinder limits the maximum amount of fruit, from which you can squeeze the juice. Of course, this method can be used to squeeze even a hundredth of fruit into juice, but the effort and input of work will then be disproportionately large in relation to the effects. If the amount of fruit exceeds several kilograms, it is recommended
Electric juicer
The purchase is admittedly expensive, but at the same time it is a device very effective in operation and, above all, practical. When using a juicer, you should also take into account higher electricity bills, which is not cheap. I do not want to dwell any longer on the description of this device, all important notices about it are included in the instruction manual attached to it. And one more thing: nor a meat grinder, and the juicer are not suitable for all types of fruit. These devices do not press the juice very well from these fruits, which are the most, like apples and pears. The sieves quickly become clogged with fruit pulp and hardly let the juice pass through. The device must be cleaned again from time to time during operation. Grape juice, apples and pears are best squeezed with a grinder and press. Only these devices make it possible to process a large amount of fruit in a short time, and a high pressure force allows you to achieve optimal performance.
However, it doesn't make much sense to buy these semi-professional devices – even small ones – for a small household or for an amateur winemaker, who wants to set juice or wine in quantities of five to ten liters. Such a purchase pays off only from the "charge" more or less 50-100 liters. If you think about it, to stock your own cellar with juices and wine all year round, such an investment will be profitable.