Wine desserts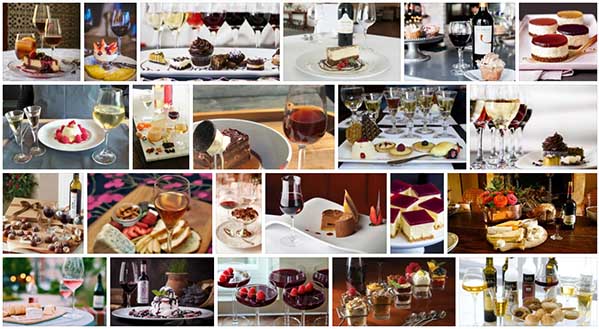 Strawberries in red wine
1/2 kg of strawberries
3/8 liter of strawberry wine
2 spoons of sugar
Wash the strawberries and cut them into quarters. Sprinkle with sugar and leave for a few hours. Put them in compote-makers and pour strawberry wine.
Raspberry wine jelly
1/2 kg malin
2 spoons of sugar
3/8 liter of raspberry wine
6 red gelatin leaves
1/8 liter of thick sweet cream
sugar
Wash the raspberries, sprinkle with sugar and leave for a few hours. Meanwhile, prepare the gelatin according to the recipe on the package and add it to the hot raspberry wine. Put the raspberries in the compote-presses, pour jelly and leave in a cool place. Whip the cream, add sugar and, when the jelly sets, decorate it with whipped cream.
Rhubarb wine cream
250 g of rhubarb
1/8 liter of water
50 g of sugar
1/8 liter of white grape wine
1 yolk
1 protein
1 spoon of corn meal
Wash rhubarb, cut into pieces and boil in water until soft. Whip egg yolks with sugar until cream, add wine, cornmeal and bring to a boil quickly. Add rhubarb to the mixture and rub it together. Cool it down a bit. Beat the egg whites until foam and combine with the mass. Put the cream in bowls.
White wine jelly
3/8 liter of white grape wine (or any other fruit wine)
6 gelatin leaves (depending on the white or red wine)
2 spoons of sugar
Heat the wine slowly, Prepare gelatine according to the recipe on the packaging and add it to the hot wine. Cool a little and pour into compote makers. Depending on the type of wine and the taste, you can of course add various spices.
Baked apples in red wine
1/2 bottles of red wine with currants
2 apples of the divine variety
2 spoons of cherry compote
2 spoons of sugar
cinnamon
Orange peel
Remove the seed nests from the apples, arrange them in heat-resistant bowls, pour cherry compote and sprinkle with sugar, cinnamon and grated orange zest. Pour half the wine into each bowl. Bake in the oven at approx. 150° C for more or less 20 minutes.
Cherry cold soup
1/2 kg of cherries
1/2 liter of cherry wine
100 g of sugar
Boil the fourth part of the cherry with a little sugar and put it in a cool place. Mash the rest of the cherries with the stones. Boil a syrup from a small amount of wine with sugar, pour it over crushed cherries, boil briefly and rub through a sieve. Add the rest of the wine, mix with cooked cherries and cool.
Fruit salad in white wine
1/2 kg of various fruits (grapes, apples, mirabelki, cherries, bananas)
1/10 liter of apple or calvados vodka
2 spoons of sugar
1/4 liter of apple wine
Slice the fruit finely and sprinkle with sugar. Left, let them release their juice. Then add the wine and vodka. Possibly sweeten.
Wine omelette
3 yolks
3 proteins
1/8 – 1/4 liter of white grape wine
2 spoons of sugar
80 g of flour
Whisk egg yolks and sugar with a whisk, until they have the consistency of a cream, add flour, mix, add wine like this, so that the mass is quite thin. Beat the egg whites and combine it with the mass. Fry the omelette in a pan, brush it with marmalade and serve immediately.
Punch and mulled wine
Ze wszystkich rodzajów win owocowych można przyrządzić grzane wino i poncz według ogólnie znanych przepisów. Grzane wino przyrządza się z czerwonych win, while for a punch you can take both red ones, and white wine.