Tannins - enriching the bouquet of wine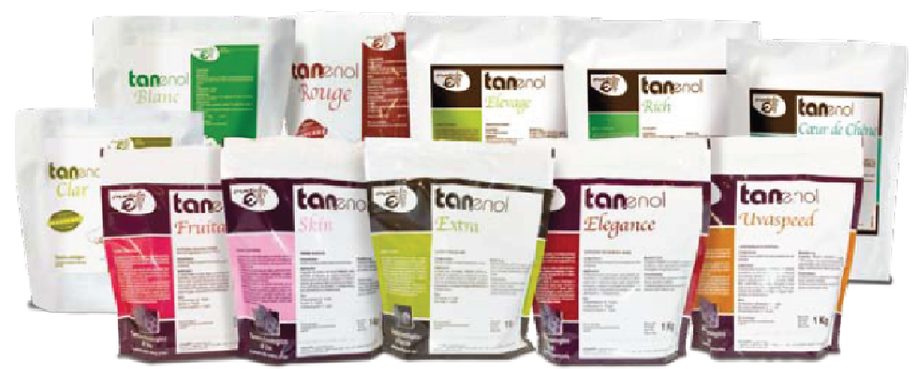 Tannins are still a relatively unknown means of producing and enhancing the value of wine. The Italian company ENARTIS has been researching and studying the influence of exotic tannins for many years, on the individual stages of wine preparation and what effect it will have on the final product.
Many years of research have proven, that the use of the right tannins in the right amount, has an undeniably positive effect on wine, corrects its imperfections, supports the extraction of natural tannins contained in the fruit, facilitates subsequent clarification, stabilizes the particles responsible for the color of the wine, supports the action of antioxidants, eliminates protein clouding, enriches the bouquet of wine.
So that we can all benefit from these wonderful effects of using tannins, we present to everyone
For winemakers, the ENARTIS TANENOL series of products, which consists of preparations of tannins obtained from grapes and red fruit, and preparations of tannins derived from oak wood. A wide range of possible compositions allows you to solve almost any organoleptic and technological requirements.
How to choose the right product and dose for our wine?
There is a simple method of organoleptically checking the tannin used and making preliminary tasting trials. This method consists in dissolving 1g of TANENOL in 100ml of pure water containing 13% alcohol. After dissolving, we have a ready solution that can be added in the proportion of 1 ml per 100 ml of wine (which corresponds to the dose 10 grams of TANENOL per 100 liters of wine)
When to use?
TANENOL products can be used at the very beginning of the wine production process, during fruit maceration or fermentation in the pulp. The minimum contact time with the wine is
1 week, and the maximum is the longer the better.
Available products in the WinoHOBBY offer:
TANENOL CLAR - granules - available volumes: 5g, 20g, 50g i 1kg
TANENOL FRUITAN - granules - available volumes: 5g, 20g i 1kg
TANENOL RED FRUIT - granules - available volumes: 5g, 20g and 1 kg - recommended for use with ENARTIS Ferm Red Fruit yeast

Found on google via:
tannin wine
his land
tannin wine
1g land
to what wines tannin
wine tannins
wine tannins how to apply