Completion of fermentation and clarification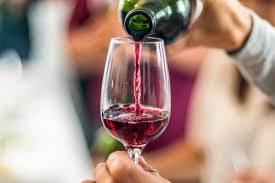 When the wine stops working - the water in the tube will stabilize and it stops puffing - then you should check the sugar content with a wine meter. If the sugar content of the wine does not decrease for several consecutive days, means, that the fermentation process is complete.
Weaker wines are harvested on average 3 times from above sediment (after completed fermentation), strong 4 times (guinea pigs co 3-6 weeks, depending on the sludge discharge rate), always remembering about the shortest possible contact of wine with air. Strong wine at the last dressing, dessert can be oxygenated.
The wine should always be tasted during the first collection, because during fermentation you can add something else, e.g.: sugar syrup, honey or juice from other fruits. Thanks to this, the wine will be tastier and in line with our expectations.
If the wine is not well clarified, we can wait for it to clarify itself - naturally (it may take up to 10 months), or else filters or clarifying agents may be used. We can use gauze to filter the wine, canvas, flannel, special filter filters or sets for gravity filtration. One of the fining agents can also be used:
Klarowin (bentonite) - it is an effective agent for clarifying wines and juices. When swollen in water, it exhibits strong absorption properties. The contents of a bag for 10L of wine;
Ready-made - super fast and super strong, binary (K1+L1), professional clarifier for adjustments. Perfect for clarifying mash and white wines. Time of complete clarification 24h. The contents of a bag for 25L of wine;
Instruction: when the wine or mash stop "working", decant them from the sediment into another container. Before adding the preparation, mix the settings well, then add the entire content of the K1 sachet
and mix everything thoroughly for about 30 seconds. Then add the contents of sachet J1 and mix again. Leave in a quiet place, the clarification process will start after a few minutes, complete clearing up to 24h.
Active carbon - to cloudiness and musty aftertaste, yeast or mold;
Egg protein - 1st floor. for 25-30l of wine, broken in a small amount of wine;
Silicon sol;
Liquid or powdered gelatin, e.g.: ENARTIS Goldenclar;
Multi-component agent - ENARTIS NEOCLAR - a clarifying preparation with a very broad spectrum of activity, it also removes polyphenols and proteins, improves the stability and organoleptic qualities of wine. Perfect for clarifying white and red wines. Composed of ENARTIS NEOCLAR they come in: bentonite + powdered gelatin + powdered egg white + activated charcoal.
Multi-component agent - ENARTIS CLARIL SP - broad-spectrum clarifying agent, for white and red wines. Composition: bentonite 50%, PVPP 20%, caseinate 15%, silica 15%. Spectrum of action: removes phenols and polyphenols, eliminates protein clouding, improves transparency, eliminates the ingredients responsible for the "browning" of wine, reduces bitterness and improves the organoleptic properties of wine, enhances freshness.
Found on google via:
wine clarification
completion of wine fermentation
the wine stops working
how to make a wine filter
mash clarification
the wine stopped working what to do next
house wine fermentation