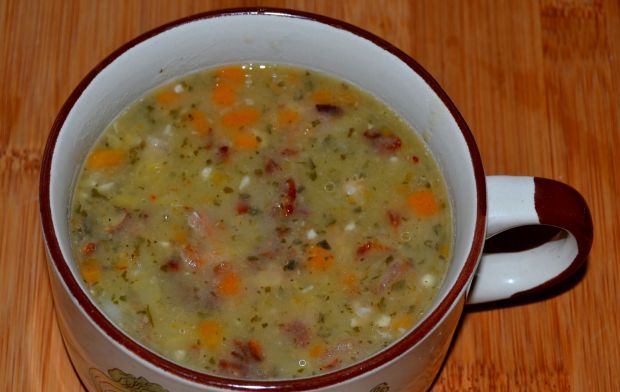 Split pea soup
4 portions - 1 a serving contains approx. 235 kcal
• ¾ szklanki grochu (halves)
• 2 carrots
• ½ małego selera
• 2 średnie pietruszki
• 2 large potatoes
• 1 large onion
• 2 spoons of olive oil
• 1 a teaspoon of flour
• szklanki mocnego wywaru lub kostka rosołowa
• salt, marjoram
Pour into a pot 2,5 liter of water, add the rinsed peas and cook for about half an hour after boiling. Then add the chopped carrots, parsley and celery. After 15 minutes, add the diced potatoes and cook the whole thing more 15 minutes. Meanwhile, fry the finely chopped onion in olive oil; at the end of frying, sprinkle with flour. Put the onion, oil and flour into the soup, add a cube (or a decoction), marjoram and stir. Season with salt to taste and set aside for about half an hour.
Onion and bean soup
4 portions - 1 a serving contains approx. 220 kcal
• 1 ½ litra chudego domowego wywaru (vegetable, vegetable and meat or ready-made from stock cubes)
• 1 a glass of pearl beans (preferably soaked overnight)
• 3-4 dość duże cebule
• 2 medium carrots
• 1 a little celery
• 2 tablespoons of oil
• salt, marjoram (possibly a clove of garlic)
Boil the beans in a separate pot until soft. In the stock, cook it through 20 minutes chopped carrot and celery strips. During this time, lightly brown the chopped onion and simmer until tender, covered, approx 15 minutes. Add the beans to the soup, stewed onions with olive oil and season to taste with salt, marjoram and possibly a crushed clove of garlic. Set aside for 20 minutes, for the soup to cool down and gain flavor.
green peas cream
1 portion - 1 portion contains 160 kcal
• 40 g zielonego groszku
• 1 potato
• ¼ selera
• ¼ ząbka czosnku
• 25 ml of natural yoghurt
• szczypiorek
• kminek, ginger, salt, pepper
Peel the potatoes and celery, dice and add to 3 glasses of boiling water. Cook around 20 minutes, until the vegetables are soft. Set aside a spoonful of peas to garnish, mix the rest of the vegetables. Add yoghurt to the cream and mix everything together. Season to taste with spices, chives and crushed garlic. Before serving, add the peas that were left aside.